GDPR/TCPA Requirements
We're committed to providing you with an amazing product while helping you to be compliant with the new GDPR/TCPA requirements no matter which e-commerce platform you are using (Shopify/ Magento/ Woocommerce/ Prestashop).
Carts Guru's personalization powers combined with real-time analytics offer you the opportunity to get closer to your customers so they have the confidence to bring you new and repeat business.
However, you should follow and respect the consumer's choices and run your activity according to regulations.
Synchronize your contact list with Carts Guru to update contact consent by channel.
Syncing and opt-in/opt-out

From your PRIVACY CENTER (Website/Settings)

You have 2 options to synchronize your opt-in/opt-out to target your customers with the most up-to-date consent. Visit your privacy center, go to the opt out management tab, and choose between:
Manual mode to export/import a CSV file. You will be able to get all the opt-out for each channel and/or import all your opt-out collected form tier sources. This import is key when you start with Carts Guru and you set up your first contact lists.
Real-Time mode which will get/ push opt-out data in real time directly to your customer database in Carts Guru. This mode can be set up through the API.

Optional API for a customized solution

You can use our API to develop a customized solution that integrates seamlessly with your e-commerce platform customer account. Your customer can have direct access to manage their information from your store's customer account, such as:
Information collected about their profile.
Update the opt-in for a specific channel.
Delete all data about their profile.
 If you want more information about the API click here:

Combining the above with the security measures we've taken means you have everything you need to gain and keep your customer's confidence. 
Opt-in modes on Carts Guru
Carts Guru offers 2 modes of OPT-IN. You have to choose the appropriate one regarding the applicable regulations: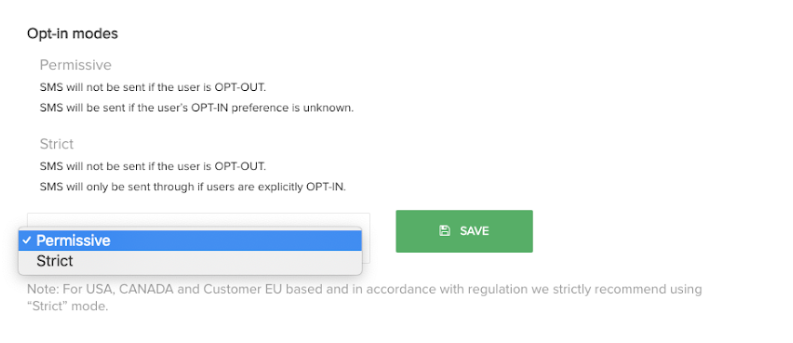 Permissive
SMS will not be sent if the user is OPT-OUT.

SMS will be sent if the user's OPT-IN preference is unknown.
Strict 
SMS will not be sent if the user is OPT-OUT.

SMS will only be sent through if users are explicitly OPT-IN.
You can configure it under "Privacy Center" tab in website settings.:
Note: For USA, CANADA and Customer EU based and in accordance with regulation we strictly recommend using "Strict" mode.