If you send SMS messages to your customers, you can choose the amount you want to purchase (at least $50) or activate automatic refill. These credits are not included in your plan payment and are held as a separate budget for your text messages sending. 
You can add an automatic recharge trigger at any time. This will automatically refill your balance when it drops below a certain level. We recommend using the auto-recharge trigger to prevent project suspension due to zero or negative balance.
---
How to manually add SMS Credits
1. On the bottom left side of the menu-bar, go to Account -> Account & Billing.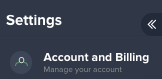 2. Scroll down to the SMS credit section and look for Add Funds. 
3. Input the amount of money you would like to manually add into your account.
4. Click Confirm.