The aim of this article is to explain to you how to manually add SMS credits.
If you send SMS messages to your customers, you can choose the amount you want to purchase (at least $50) or activate automatic refill. This will automatically refill your balance when it drops below a certain level. We recommend using the auto-recharge trigger to prevent project suspension due to zero or negative balance.
---
How to manually add SMS Credits
1. On the bottom left side of the menu-bar, go to Account -> Account -> Billing.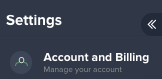 2. Scroll down to the SMS credit section and look for Add Funds.
3. Input the amount of money you would like to manually add into your account.
4. ClickConfirm.