Welcome! Let's walk together through the steps you need to get started with Carts Guru.
1. Integration
Integrate with your current e-commerce platform to leverage the full potential of Carts Guru. Your integrations will help pull in data from other sources that you can use to better target your marketing.
Reach out to our Customer Support team for any questions on integration.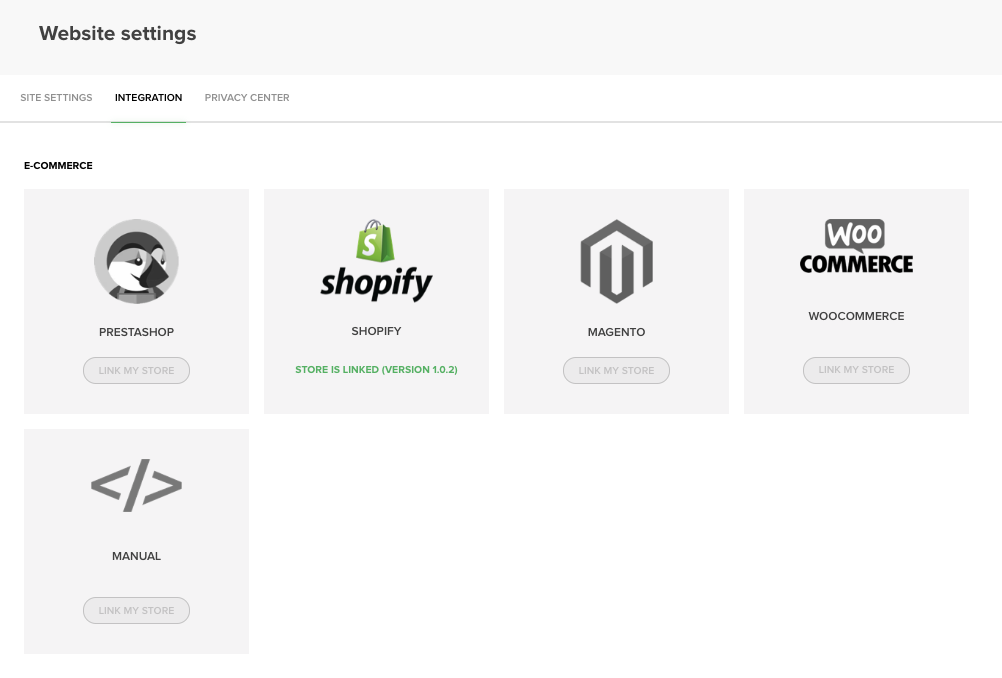 ---
2. Importing Contacts
Whether you're migrating from another email service provider or you prepared a list of your database, you'll need to import your contacts into Carts Guru.
A. CSV Import
Before you import your contacts, make sure they abide by Carts Guru's Terms of Service and that the people opted-in to receive marketing communications from you. Head to the compliance guidelines if you're unsure whether your contacts are compliant.
Make sure that your CSV file is formatted correctly before uploading it into Carts Guru.
Then, in the Contacts tab, click "Import".
For more information, read our dedicated post about importing contacts.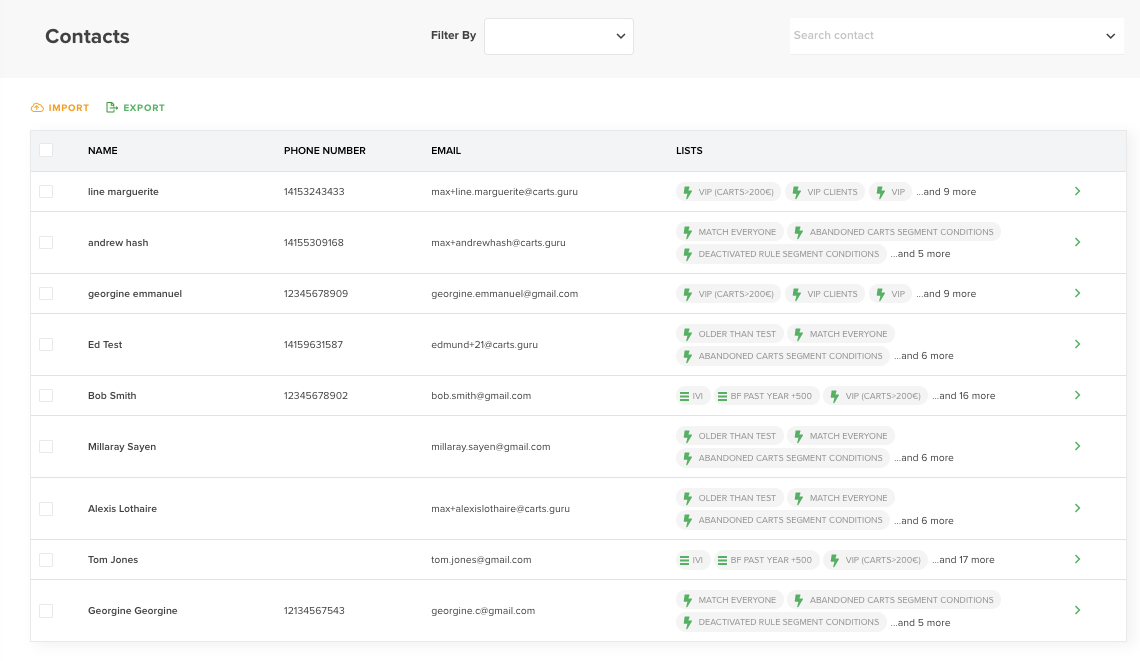 B. Synching contacts with your CMS (Shopify, Prestashop, Magento, WooCommerce etc)
1. Shopify
You can import your data in just 2 clicks! Select a date, and then we will import all contacts and their orders created from this date onwards. This happens so we can populate all the contact activities.
You can do this by looking for the button in one of the following 3 locations:


Site Settings -> Integration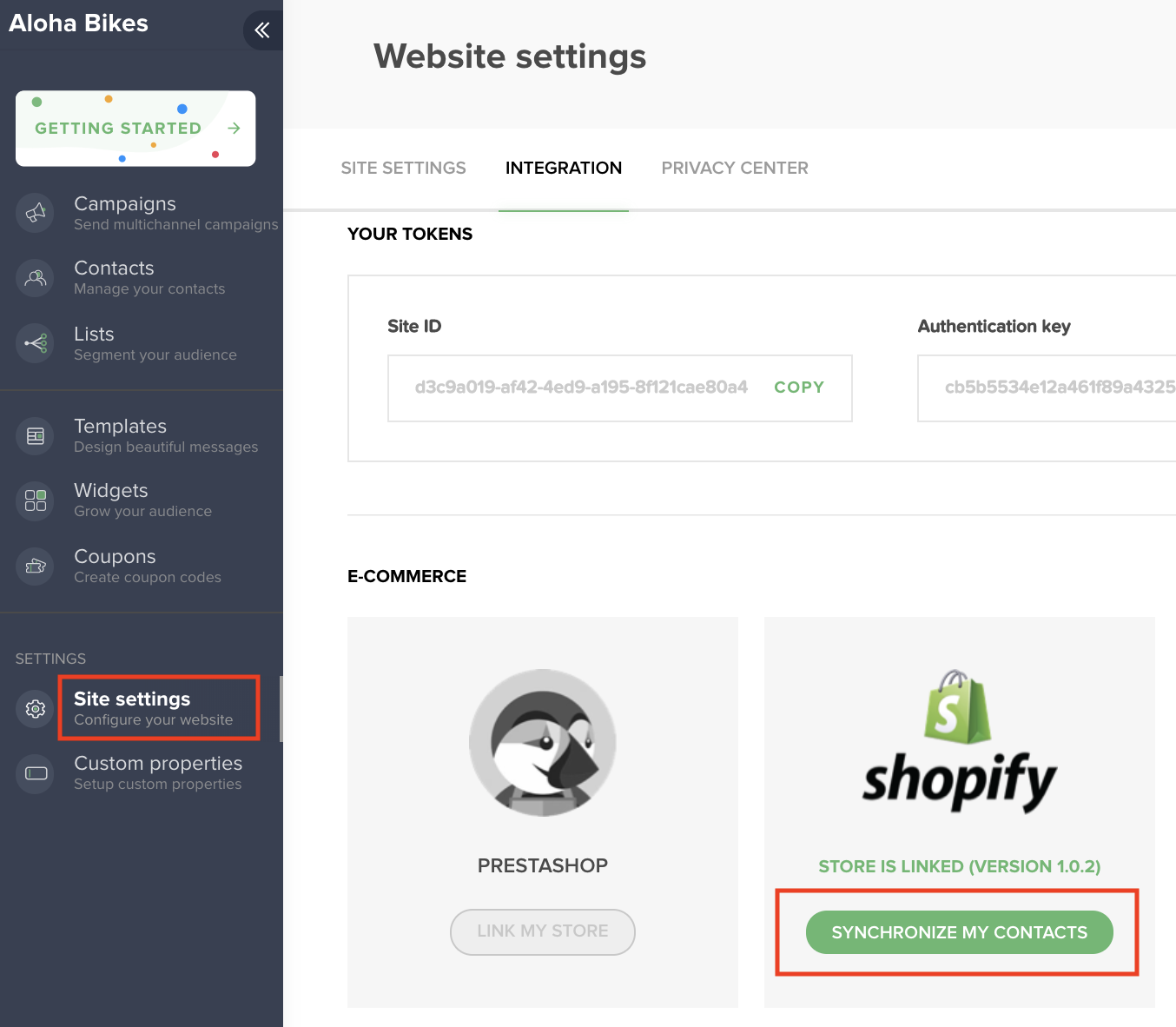 ---
3. Create Lists
Market segmentation is the research that determines how your company divides its customers into smaller groups based on characteristics such as: total amount spent, last visit, and average session duration. These segments can later be used to optimize marketing messaging and campaigns to different customers.
Basically, market segmentation is the practice of dividing your target market into approachable groups. You create subsets of a market based on demographics, needs, priorities, common interests, and other behavioral criteria used to better understand the target audience.
Leverage the understanding of your market segment's product, sales, and marketing strategies. Use segmentation in your marketing communications and you can only expect better response rates and ROI.
What's the difference between Dynamic and Static lists?
A Dynamic List is constantly updated depending on whether specific criteria are met, such as a contact property or a user action. Whenever a record meets these criteria, they will be added to the list. Alternatively, if they don't meet the criteria anymore, they will be removed. This is why dynamic lists are, well… dynamic. What's best, everything happens automatically.

A Static List consists of members who are added manually or through an import. The list members will not change unless you manually add or remove them.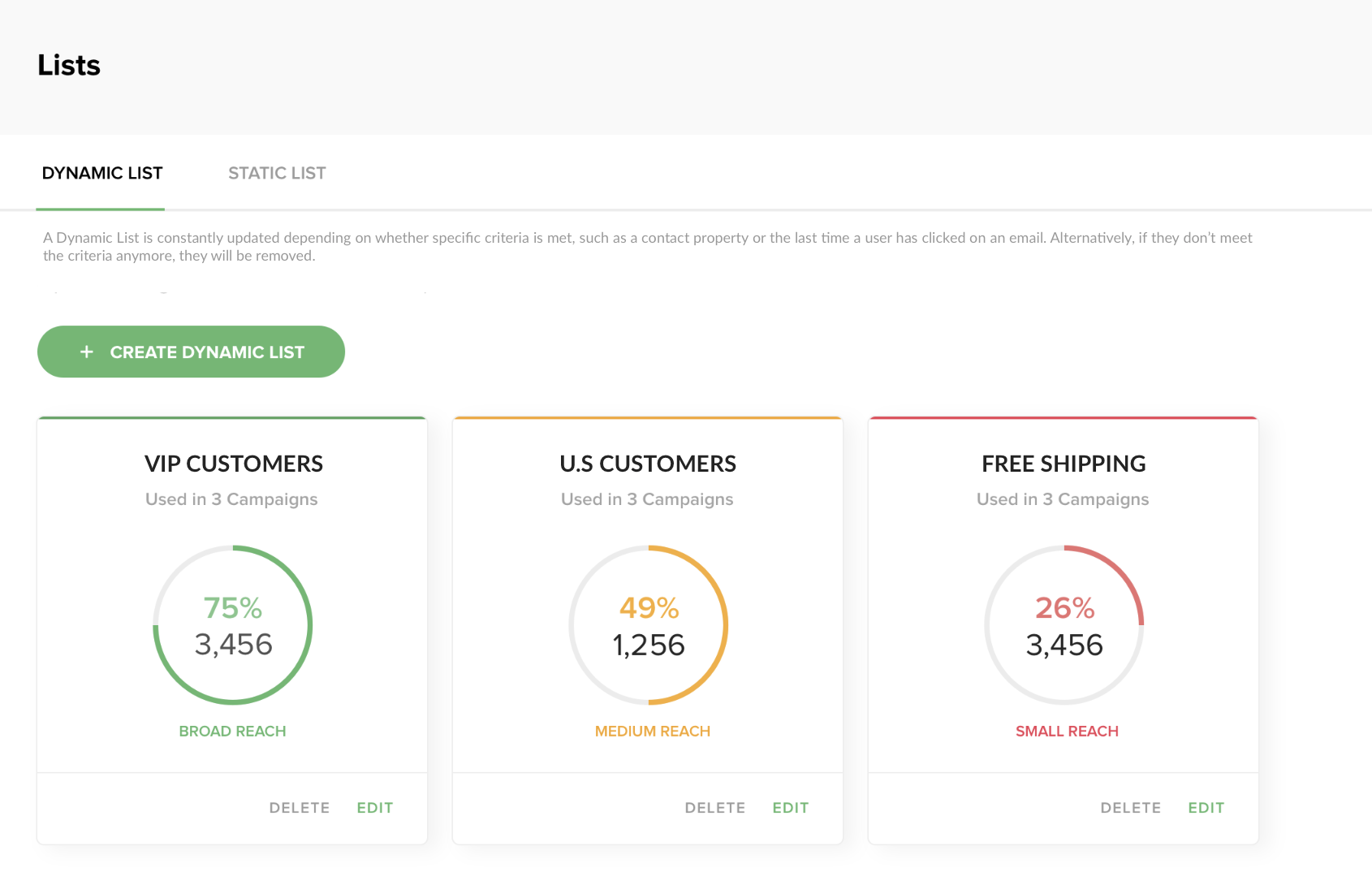 ---
4. Create a Campaign
You've done the hard work of getting your Carts Guru account in order. Congratulations! Now it's time to send your first campaign.
A. Campaigns Types
Time trigger -

Launch at a specific point in time.
Schedule a campaign to be sent at a specific time. You can choose the exact time and date you want to send it, as well as whether you want this campaign to have a daily, weekly, or yearly recurrence. We will deliver the messages in users' local time zones to increase engagement and avoid mishaps like sending notifications at 4 a.m.
Action trigger -

Launch when users perform actions on your website.
Trigger a campaign when a user performs an action, like abandoning a cart or visiting your website for the first time.
List trigger -

Launch when a user becomes a member of a dynamic list.
The campaign will be triggered when a user enters a dynamic list. Let's say you created a dynamic list of users that didn't buy anything in the past 3 months and you want to send them a win-back email. Whenever a user enters this list, it will trigger the campaign and send the email.
B. Your first Campaign
Before starting your first campaign, consider the following:
Who?
Ensure you target the right audience by using the variety of properties available when creating dynamic and static lists.
What?
Use the power of multichannel to communicate with your customers through multiple touchpoints. Customize and personalize your communication templates for your brand to stand out. Your customers will fall in love with it.
How?
After reviewing and customizing your audience and messaging, choose the type of campaign you want to use: time trigger, action trigger, or list trigger.
Why?
Choose whether you want your customers to engage or convert. No matter the choice, you are about to send your first campaign! Well done!

---
5. Setting Up Your Workflows
Flows are automated communications series triggered by user activity or behavior. They can contain one or more messages to be sent to contacts after they perform certain tracked actions. Flows enable your customers to have a personalized experience with minimal time spent on your part.
Flows are easy to create. With Carts Guru's Workflow Builder, you can add the elements you want directly into the flow. Use time delays to space out your messaging, conditional splits to create different paths within a flow, and multichannel communications that you can customize the same way as your campaigns. Within the flow section, you can also navigate through the analytics and see how your messages are performing.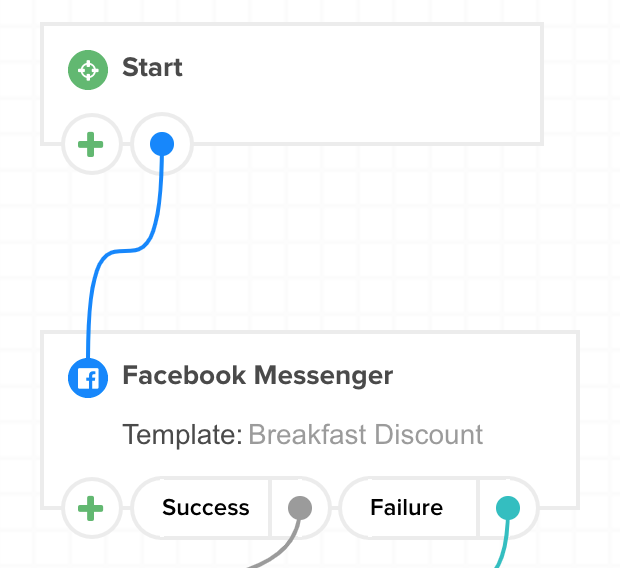 ---
6. Analytics
So you've done it! You've set up your Carts Guru account, pulled in all of your integrations, sent your first message, etc. But, how do you know if you're truly getting the most out of your Carts Guru account?
The best way to check the effectiveness of your current marketing strategy is to look into all of the reporting features that Carts Guru has to offer.
You can access your flow and campaign analytics by clicking into the emails in question and navigating to the respective analytics tabs. Additionally, by navigating over to your e-commerce marketing dashboard tab, you can check other metrics.