A Time Trigger campaign is one that you send at a specific point in time. A Newsletter is a good example of that.
To start:
1. First, head to "lists" and create a static list of people you want the newsletter sent to. If you want to send it to all your contact base, you can avoid this step as you'll have at your disposal the "Match everyone" list.
2. Next, click on Add Campaign, give it a name, and select goal as 'engagement', since you want your users to open, read, and click through your newsletter.
3. Decide when you want the campaign to stop. With a newsletter, it makes the most sense to select 'never stop the campaign'
4. Select Time Trigger as you want all the newsletters sent at the same time. Then select the date and time you want the newsletter to send.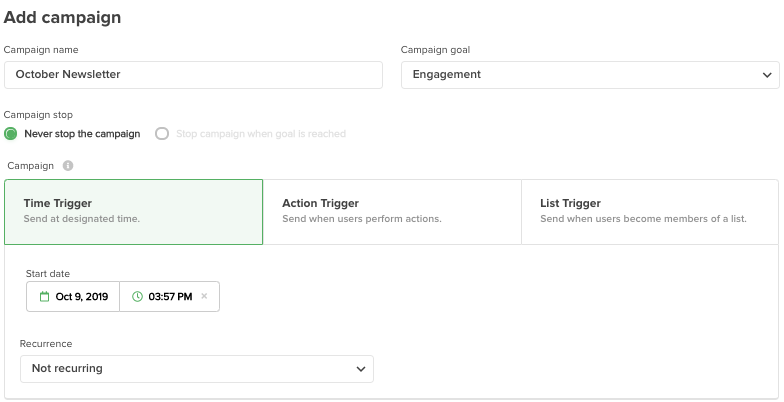 5. Select if you want the campaign to be recurring. If you will be sending your newsletter weekly or monthly you can select one of these options, then before each month's email is sent out simply update the template you select.
6. Choose the audience. You can choose the static list you just created or one of the Dynamic lists at your disposal such as the Match Everyone one to target all your contacts base.
7. Create your workflow. If you are sending one newsletter in the one language just click action, add email, select the template and you're done!
8. If you want to send multiple templates in different languages, you first select a condition, language, equals exactly, then input your first language (ie English). Select true > action > email, then add the English template.
9. Go back to the initial condition, select failure and add another condition, like language equals exactly French, and complete the above process. You can continue this process to add a Spanish email template as well (or any other language, for that matter).