How do you track the success of your email marketing efforts?
While measuring open and click-through rates are a great start, it's useful to understand what people do on your website after they interact with your campaigns.
To do this, use UTM codes to communicate with your analytics tools and show that these people came to your website from an email campaign. You can track most of their website activity, from the pages they visited to the items they purchased.
In this post, you'll learn what UTM codes are, how you can add them to your email campaigns, and the kind of reporting you can access once they're enabled.
How to configure UTM Trackers?
Directly from the templates (into settings tab) you can define your UTM values. They use the following conventions.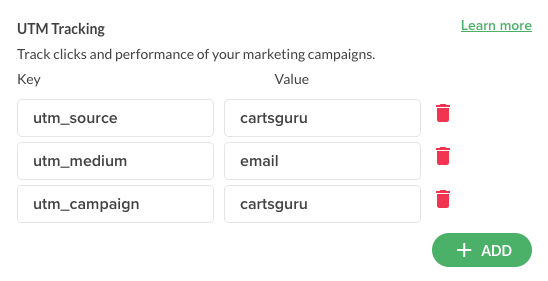 Most used parameters UTM are:
utm_campaign = 'retargetingxyz' ----
utm_medium = 'email' ---- the channel
utm_source = 'cartsguru' ---- the source of the campaign
By filling out the utm_campaign, you can easily track all the results of a certain email. If you have a few goals set up in Google Analytics (like purchases, white paper downloads, etc), you can see how well a particular email performed.
Wrap up
By using UTM codes in your templates, you can track the performance of your campaigns beyond clicks and opens, regardless of whether they are manually or automatically generated.
By combining these codes with analytics tools like Google Analytics, you can see how much revenue each campaign is generating and gain a better understanding of the ROI of your email marketing.