A Static List consists of members who are added manually or through an import. The list members will not change unless you manually add or remove them.
To create a static list:
1. From the menu bar, go to Lists.
2. Switch to the Static Lists section and click Add list.
3. Give your list a name.
4. Select whether you want to:
Include contacts that meet all conditions: users who do not pass all conditions will not be included in your list
Include contacts that meet at least one of the conditions: your list will contain only users that satisfy any combination of one, some, or all of those filters.
5. Choose the condition/s you would like to add. Your options include contact properties from country to the last date they made a purchase, and so on.
6. On the right side of the screen, you will see a preview of all the contacts to be included in the list and the percentage of reach this list has (the reach is calculated as the total number of contacts in the database - the number of contacts in your list).
7. After adding all the conditions, click Save.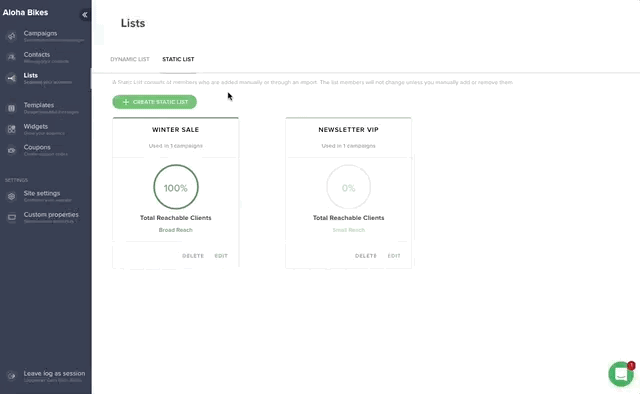 You will also have to create a static list if you want to import contacts in the platform from a csv file and have them assigned to a particular list. Also, if you would like to segment or customers according to a specific condition that you can't find on Carts Guru, you can import your pre-segmented contact file into a static list. Check this article to see the instructions.
Follow the instructions in this article if you want to remove a contact from your static list.