If you would like to create a list of contacts who have opted-in to receive communications from you, follow these steps:
1. From the menu bar, go to Lists.
2. Switch to the Dynamic Lists section and click Add list.
The reason why we choose a dynamic list is because we want it to be automatically updated with new users that opt-in. To see more about the differences between dynamic and static lists, read this article.
3. Give your list a name, e.g Opt-in contacts.
4. Select whether you want to include contacts that meet all conditions or at least one (in case you have multiple conditions).
5. Choose the following conditions:
Email opt-in -> Equals to -> True
SMS opt-in -> Equals to -> True
6. On the right side of the screen, you will see a preview of all the contacts to be included in the list and the percentage of reach this list has (the reach is calculated as the total number of contacts in the database - the number of contacts in your list).
7. After adding all the conditions, click Save.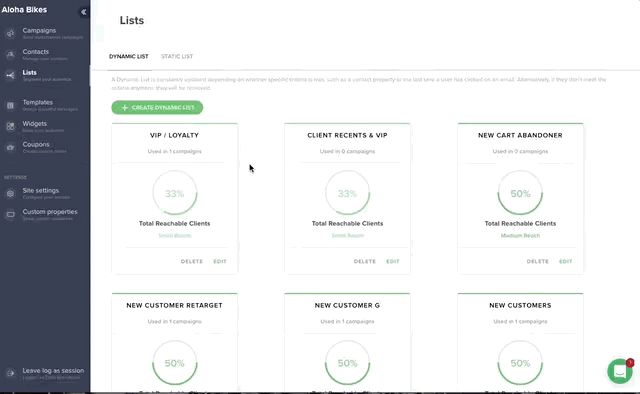 If you would like to know how to manage your contacts' opt-in, read this article.