Time Trigger
Launch at a specific point in time.
You can schedule to send a campaign at a specific time and date. This is a one-time campaign, like a newsletter.
We will deliver messages in users' local time zones to increase engagement and avoid mishaps like sending notifications at 4 am.

Action Trigger
Launch when users perform actions on your website.
Instead of sending your campaign on certain days, you can trigger them to send after a user performs an action.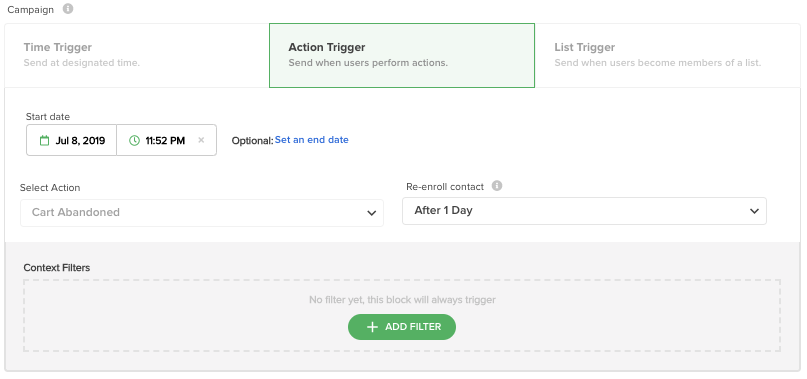 Here are the available actions you can choose from:
Abandoned cart
Browse abandonment
Order status (confirmed, canceled)
Payment failed
Start of a new visit (visitor starts a new visit on the website)
End of a visit session end (visitor leaves the website after initiating a session)
Context filter
If the action is related to a cart or an order, you can add an extra filter for specificity. For example, you can further target an Abandoned Cart custom action by adding the "cart value" property filter. This campaign will only reach users who've left less than $58 worth of goods in their carts.
List Trigger
Launch when a user becomes a member of a dynamic list.
When a user becomes a member of a dynamic list it will trigger the campaign journey.
For example, you can create a dynamic list of users who spent $1,000 lifetime on the website and send them messages.
Or, you can create a dynamic list of users who have received an order and send a follow-up message 2 weeks after asking for a review.

By checking/unchecking the "Also enroll the existing users" you can enroll in the campaign the contacts who already belong to the list or just let the new ones enter the campaign.